CUTTING-EDGE RESEARCH METHODOLOGIES
Our cutting-edge research models, advanced research planning, and statistical analysis makes us true market analysts. Some of the regular research studies handled by us are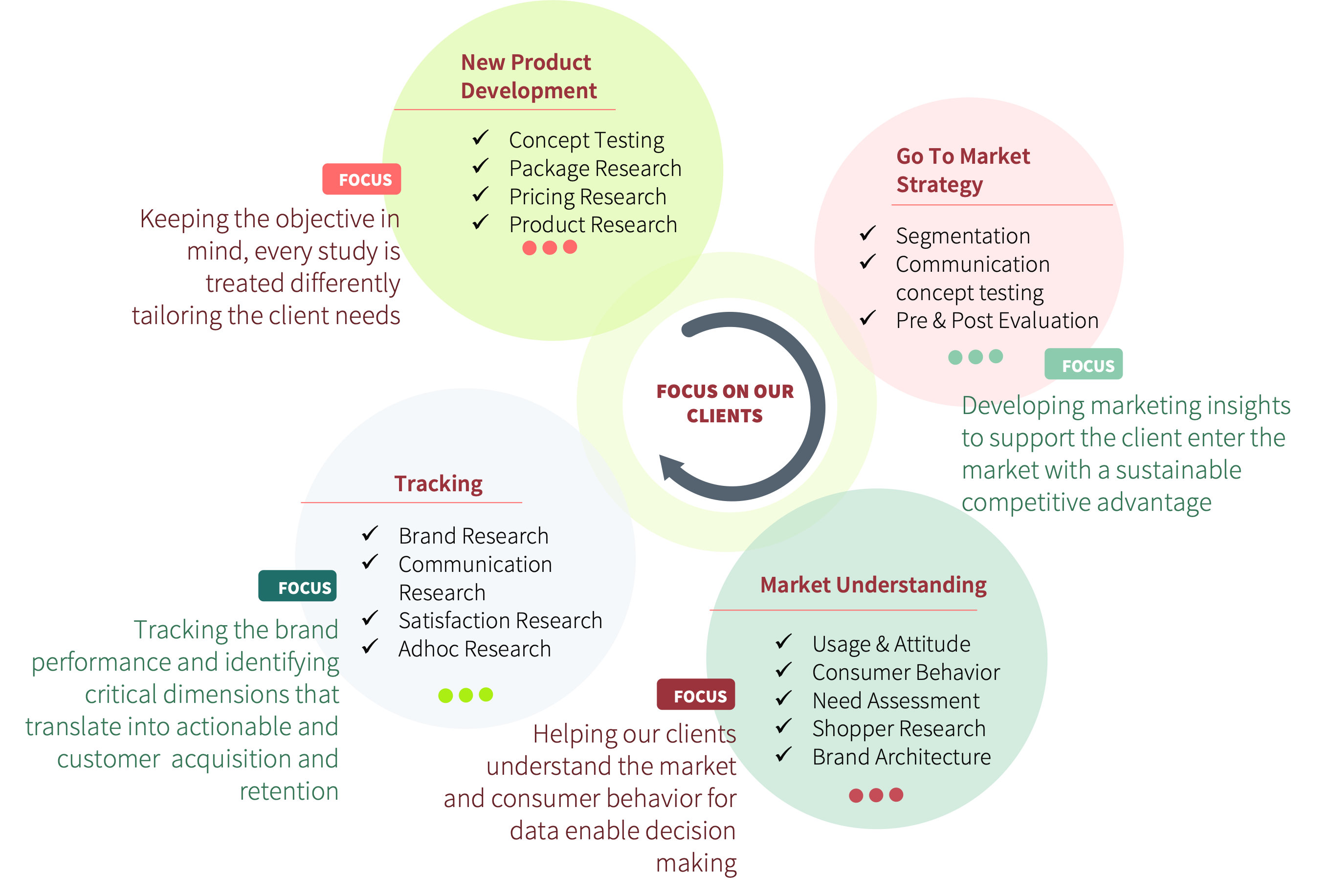 COMMITTED TO EXCELLENCE IN RESEARCH
Adequate knowledge and understanding of the market are critical for businesses, large or small, at various growth levels. We support our clients with end-to-end solutions across various stages of business, be it at concept testing stages or post-market entry.
At Dimensions, we are committed to the excellence and the strong growth of our clients.
RESEARCH SERVICES
Our 360 degree Market Research services helps our clients gather insights on various critical business challenges. Some of them are

CONCEPT TESTING
At Dimensions, we suggest concept testing research to verify product, design, and marketing ideas early on, thereby saving time & money by moving on with the best concepts for our clients. This is the last stage of product discovery, where we present the new concept to its target audience to see if it's worth pursuing and suggest clients with insights and recommendations from the prospective customers. Validating ideas is an important component of market research and a vital step in developing effective solutions.
PACKAGING RESEARCH
Packaging research aids companies in determining how effectively their pack works on the shelf and precisely identifying what drives customers to choose one product over another. We help our clients understand if a packaging design is likely to succeed or fail and make necessary course corrections. For already existing products, packaging research helps in determining what impact a change in packaging will have, as well as how any new packaging may be further optimized for success.
PRICING RESEARCH
Pricing research offers businesses the customer data they need to make educated pricing decisions. Whether a company is going to raise prices or is considering how to price a new product, market research is essential to a successful pricing strategy. We generally suggest quantitative research followed by pricing analytics models to determine the best price a consumer is willing to pay. Conducting pricing research has two major advantages: predicting customer reactions to price changes and discovering the psychological impacts of pricing on sales (demand).
PRODUCT RESEARCH
Product research provides information about the needed product and particular services that aid in understanding the exact requirements of the client in a variety of ways, ensuring that the product developed by the organization meets the demands of the customer and is defect-free. The goal of product research is to gain a better understanding of customers' need gaps and gain competitive insights to introduce a new product into the market.  Product research allows for data-driven product development, efficient product launch strategies, and competitive advantage.
SEGMENTATION RESEARCH
We advise market segmentation research to assist your brand in identifying various market segments to establish customized strategies and tactics for each group. The more a company's segmented audience is understood, the more efficiently it can target the consumers for a variety of commercial goals, including product creation, sales, brand recognition, and, most crucially, customer retention. The advantages of segmentation are: Gather pain points from segments and help in avoiding mistakes repeated by competitors.
COMMUNICATION CONCEPT TESTING
The focus of communications studies is to measure the impact or effectiveness of marketing & advertising concept. Once the concept testing is done, the next step is to communicate the idea through ads and other media. The communication research is conducted to find out the reaction of the customers to the ad and understand why they reacted in a particular way.
PRE & POST EVALUATION
Pre-and-post assessment research is particularly effective for measure the immediate effects of a short-term activity. This assessment aids in measure whether the expected changes took place among the audience for a particular activity.

USAGE & ATTITUDE RESEARCH
Usage and attitude research help firms discover and quantify purchasing habits, product preferences, and unmet requirements so they can figure out who to target, what solutions to use, and how to go about it. This U&A research is very important for determining the relationships between usage patterns and opinions. Market sizing, Grasping brands (choice drivers and perception), data for targeting (attitude and behaviour), and a general understanding of the category (the consumers using the product/services) can also be figured out through this research.
CONSUMER BEHAVIOUR RESEARCH
Consumer behaviour research is often known as motivation research or the study of purchasing reasons. Simply defined, consumer behaviour or responses to a certain brand, product, or quality, as well as the factors that contribute to such behavioural patterns, are researched. Through psychoanalysis and psychographics, the goal of consumer behaviour research is to gather qualitative elements of information about customer behaviour, such as habits, beliefs, attitudes, values, and so on.
NEED-GAP RESEARCH
In this type of research, respondents are asked to imagine the perfect brand or product and then assess several current brands or goods on key qualities; if no existing brand or product meets up to the ideal, a gap emerges that may be filled by a new brand or product. This study can be performed to assess if a firm is fulfilling expectations and making good use of its resources.
SHOPPER RESEARCH
Firms may customize activities and programs to fit diverse shopper types on different shopping excursions for different goods and reasons by doing shopper research to learn what consumers think and believe (attitudes) and what they do prestore and instore (behaviours). The numerous touchpoints throughout the consumer experience that develop loyalty to a brand or product are explored in shopper research including digital habits, social trends, and so on. The advantages of shopper research include improved customer service and happiness, as well as the ability to detect store issues and give correct solutions.
BRAND ARCHITECTURE RESEARCH
Brand architecture refers to how brands in a company's portfolio are linked to and differentiated from one another. Brand architecture research is critical for a balanced and relevant overall portfolio. It identifies and maps out the many ways in which a company may take advantage of perceived linkages and equities between its sub-brands and corporate brand.

BRAND RESEARCH
Brand research is very useful in the development and curation of strong, distinct brands. This research assists in establishing a competitive edge by providing objective, insight-based ideas, and suggestions on product, service, or customer service activities. Marketers, planners, and strategists can make confident, educated decisions about target markets, price, positioning, distribution, and alliances, among other things. One of the most important advantages of brand tracking is the ability to evaluate a brand's success over time.
COMMUNICATION RESEARCH
Communications research plays a crucial role in increasing the effectiveness of the marketing communications strategy of a company. The focus of communications study, often known as media studies, is uncovering trends or facts in the realm of communication and mass media. This helps brands in defining a better marketing communication strategy targeted at meeting organizational objectives better.
SATISFACTION RESEARCH
Customers' views of their experiences with a company's products and services are the subject of customer satisfaction research, which is used to determine their degree of satisfaction. Its main goal is to provide management the authority to take steps to increase client retention. Various tools like NPS, CSAT, etc are used for measuring satisfaction. Satisfaction research aids in the prioritization of resources and activities in the development of products, services, and people. The benefits of satisfaction research include increased brand loyalty, sales, and audience.